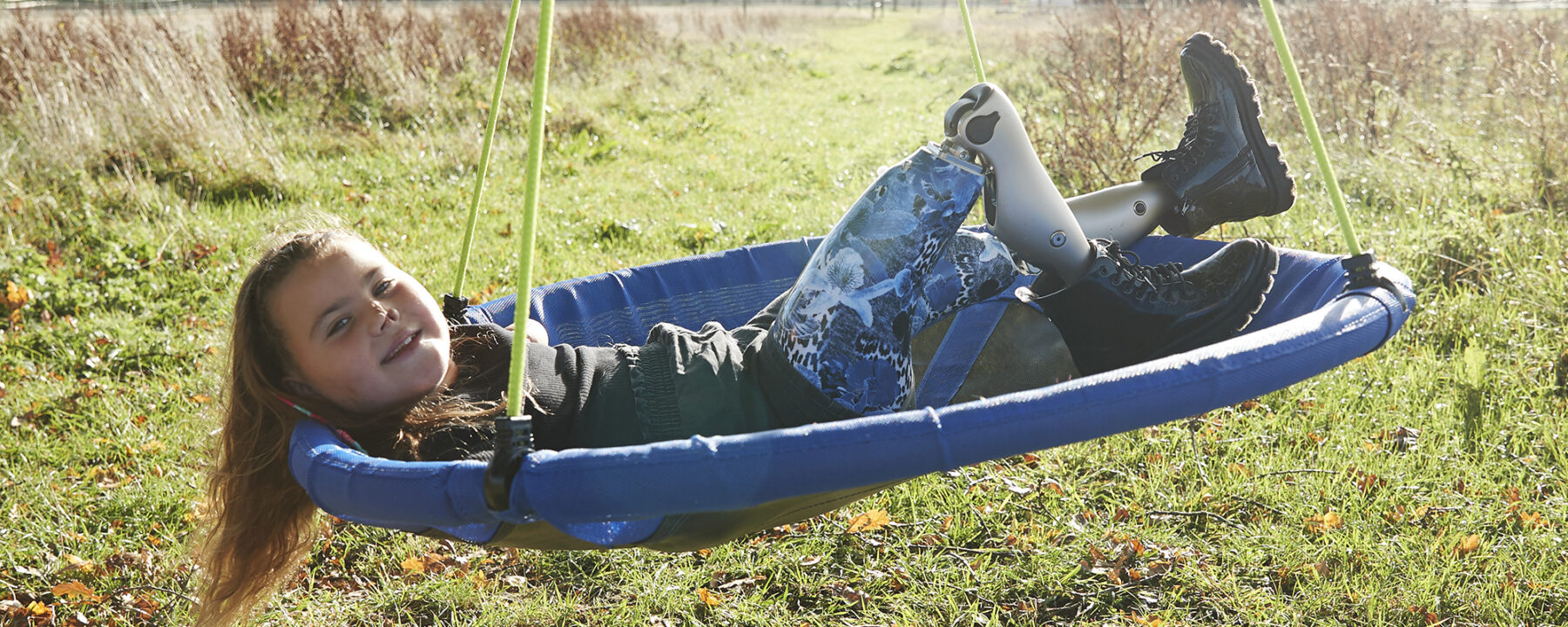 Harmonie-Rose Allen - world's youngest person to wear microprocessor knees
From Pride of Britain award winner to the world's youngest person to wear microprocessor knees, what is next for Harmonie Rose?

Quadruple amputee and meningitis survivor Harmonie-Rose teams up with private prosthetic rehabilitation provider, Dorset Orthopaedic and manufacturer Ottobock to now become the world's youngest bilateral amputee to wear microprocessor knees.
Eight year old, Harmonie-Rose Allen from Bath has never failed to surprise the world. Harmonie beat all odds when at just ten months old she contracted meningitis and was given a 10% chance of survival. In order to save her life, surgeons amputated her arms above the elbow and her legs at the knee. Since then, Harmonie has continued to thrive, over coming leaps and bounds to be where she is today including winning the 2021 Child of Courage, Pride of Britain Award.
Harmonie has been a patient at Dorset Orthopaedic since she was three years old after mum Freya was recommended by friends. Since coming to Dorset Orthopaedic, Harmonie has excelled in her rehabilitation. "As double knee amputee children mature, there comes a point where they are provided with prosthetics that can bend at the knee whilst walking. In Harmonies case, as she has lost both arms to above-elbow level, a fall is a serious issue as she would likely land on her shoulder or her face. We therefore decided to trial a pair of Ottobock Kenevo microprocessor knees (MPKs) to reduce the risk of falls", explains Mary Tebb, Harmonie's Physiotherapist.
Harmonie's prosthetist, Matthew Hughes, physio Mary and Ottobock academy lead clinician, Alan Gordon teamed together to work with Harmonie to help her learn to walk using MPKs. Harmonie spent a week's stay at Dorset Orthopaedic, practicing every day using these innovative mobility solutions. The aim of the week was to make full use of the features of the Kenevo knees, including sitting down, having the knees bend whilst walking and being able to stand up whilst using them.
Mary explained "As Harmonie is likely the first bilateral transfemoral child to try Kenevo knees, we were pleased to achieve basic walking on the first day with the minimum of problems. We also spent time working on basic standing, freeing up her upper limbs for play, such as making mug cakes and drawing. Trips out to Christchurch Harbor with obligatory ice creams made all her hard work worth the effort."
After a successful trial of the new knees Harmonie commented, "They are awesome and my favorite so far." Harmonie is the youngest bilateral amputee in the world to wear MPKs which is a huge achievement and testament to her hard work and positive outlook on life. Harmonies' new knees improve her walking as she can now bend her knees, it also allows her to get up by herself if she was to fall, previously being reliant of others. Finally, she can bend her legs when she sits down rather than having them upright.
Harmonie is an active person who loves art, swimming, dancing, cheerleading and gymnastics! She also takes part in Stage Coach taking part in theatre productions. Harmonies mum, Freya explained, "Now Harmonie is wearing her new legs on stage, you can see her movements a lot better. When she is up there she is just as tall as the other girls, some people have come up to me and said that you wouldn't be able to tell the difference if she was wearing trousers!"
As Harmonie grows up, the Kenevo's will be able to adapt with her utilising the various different modes. "The next mode will enable Harmonie to descend slopes with a gentle gradient as there is a little 'give' at the knee as the foot plants. The most advanced mode will enable Harmonie to descend steeper slopes and steps and we may try this later in 2023 or 2024", said Mary. Harmonie has lots to look forward to and we are sure will continue to strive for better.