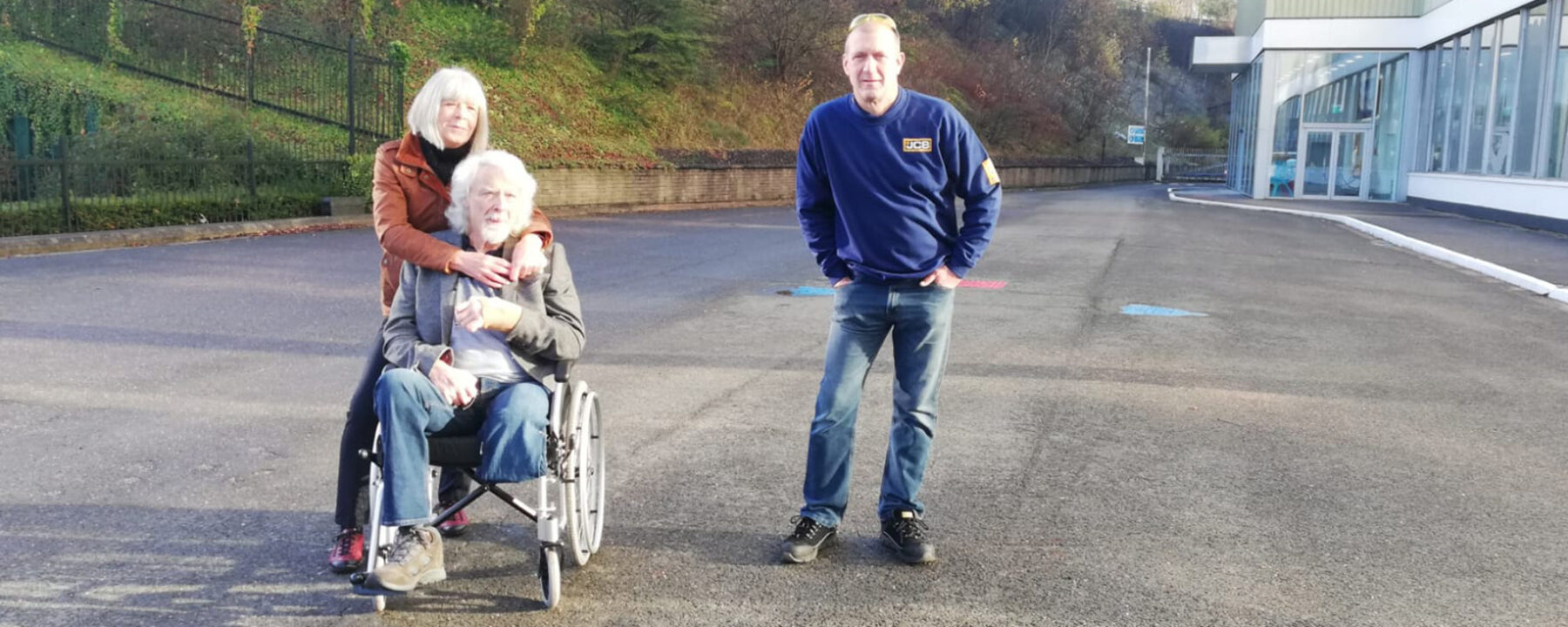 Motorbike enthusiast survives horror crash and still finds his passion for the things he loves thanks to his 'better than ever' prosthetic leg.
Retired husband and father Stephen Read from Stoke on Trent, endured a horrific collision with another vehicle whilst out on his motorbike when a car turned left without warning causing Stephen's motorcycle to crash in the side of it, crushing his leg and shattering his wrist.
Former Physics and Biology teacher Stephen, 74 has always had a passion for motorcycles dating back to his childhood, when his dad would 'cart' them around in his sidecar attached to the motorbike. These early experiences turned Stephen's love of motorcycles into his passion and in his 74 years, he has owned over 121 different motorcycles.
"I'm obsessed with motorbikes", said Stephen. "I remember my father bought me a Rayleigh Moped which had 1.3 horsepower and to this day, I still remember the feeling when I opened the throttle and the smell and the acceleration".
Stephen's passion for motorcycles influenced every part of his life. "When my wife was expecting our child and she went into labour, I took her to the hospital in the side car attached to my motorbike", recalls Stephen. "I got some very strange looks from the staff at the hospital." So, one fateful autumn evening in September 2020, Stephen's passion turned to despair when "a lovely evening ride" resulted in an accident that would change his life forever. After the collision, Stephen was airlifted to hospital where he was treated. His leg was placed in a frame in the short term, but due to an existing condition; Charcot Marie Tooth (CMT), the Doctors didn't have much hope that his leg would regenerate.
Then after blood clots began to form, the decision to amputate was clear. "I'd accepted early on that due to my CMT, the leg was going to come off", said Stephen.
After his amputation, Stephen was referred onto Dorset Orthopaedic and visited the Midlands Clinic in Burton upon Trent. After careful clinical evaluation and several trials of different prostheses, Stephen opted for the innovative Genium X3 microprocessor knee, mainly due to the fact it is fully waterproof. He also wears the Taleo foot which gives him great freedom of movement. The two innovations combined make for a reliable prosthesis that'll allow Stephen to get back to doing the things he loves.
As part of his care package, Stephen has also undergone several rehabilitation sessions with Dorset Orthopaedic physiotherapist Emily Brader. "Stephen came to Dorset Orthopaedic as a primary amputee and had never tried a prosthetic limb before", said Emily. "From the very start of his rehabilitation, Stephen has shown great determination and despite other challenges he faces secondary to Charcot Marie Tooth disease (CMT), he has progressed incredibly well". Emily continues, "Stephen now walks with a safe heel to toe gait pattern – something he will openly admit he hasn't had for many years! We've even seen some positive changes in Stephen's muscle activation and joint mobility issues from CMT as he hasn't had much input for this in the past. Although, these changes are mainly down to Stephen's motivation to continue with his rehabilitation at home in between sessions in clinic, which is really great. I'm looking forward to continue working with Stephen and seeing what else he can achieve in the future".
The rehabilitation programme across all branches of Dorset Orthopaedic is synonymous with success and many patients have arrived on the first day with little mobility and left a week later with a renewed sense of optimism and increased freedom of movement. Thanks to the advanced technology in his prosthetic leg, Stephen is able to do things he hasn't been able to do for years. He is enjoying a heightened sense of safety thanks to the intuitive nature of his new prosthetic knee. "I recently stumbled whilst walking and my new knee was able to stop me in my tracks and save me from falling. Prior to my amputation, my leg would have given way due to my CMT and it used to take me a while to get back up again", said Stephen. "That's the first time in 40 years I've been able to do that". Stephen has an upbeat and focused demeanour and suggests to others who may find themselves in a similar position to him: "When you have your leg off, things may look bleak, you must ensure you get the leg for you and your desired future. That's the key to your future mobility", said Stephen. Stephen is continuing to work hard with his rehab and has his sights set on a return to a near normal life in the future.
He longs for the day when he can get out on his motorbike for a ride and also to get out for a spot of gardening. All of these things are entirely possible thanks to his determined attitude and his "better than ever" prosthetic leg.