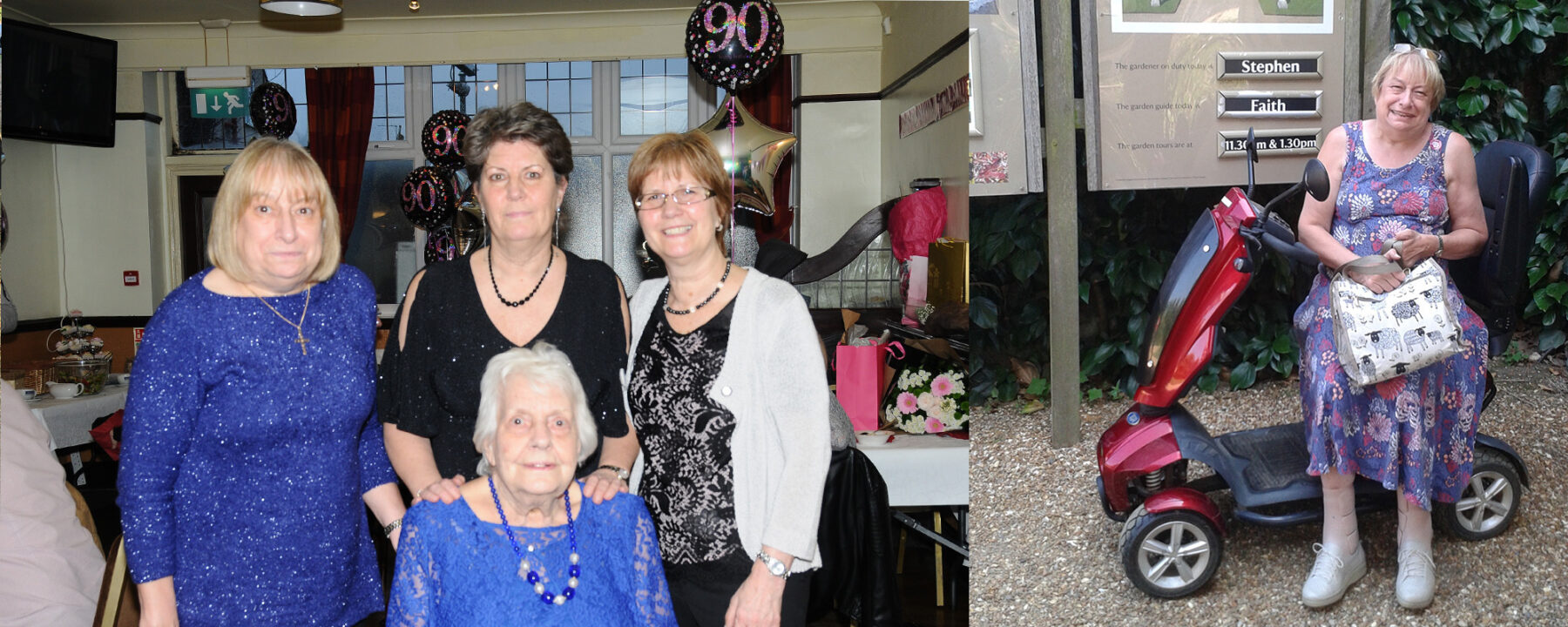 Anita Phillips - The Rolls Royce of Splints" helps Anita to lead an independent life
The Rolls Royce of Splints" helps Anita to lead an independent life
Anita Phillips, from Chingford, who has always had a passion for fashion has suffered with Charcot-Marie-Tooth(CMT) disease since the age of twelve.
CMT is the most commonly inherited neurological condition in the world and there are around 23,000 people in the UK living with the condition. People with CMT may find that some of their muscles become slowly weaker over the years, particularly in their feet and hands.
Anita's inherited CMT from her Mother and when she was just ten years old, she first recognised that she had a problem when she was could no longer jump over her skipping rope, which she loved. Moreover, in school Anita would find she was unable to take part in PE and games, "Sometimes you would be made to feel like you was a bit stupid, but the teachers never understood what was wrong", explains Anita. At the age of twelve, Anita had her first operation on her toes and then went on to have two more operations after that. Going back and forth with hospital and doctors' appointments, at the age of sixteen she was finally able to see a Neurologist who diagnosed her with CMT.
Anita has always been extremely resilient and has an unshakeable work ethic, which she credits to her parent, "I was never pandered to as a child, I always had the attitude that you either have to work with it or let it take you down," recalls Anita. Anita worked in the Fashion industry for years as a Pattern Maker and then went on to teach Pattern Construction. As time went on Anita then began to develop problems with her hands. As her symptoms regressed and determined to not stop working she decided it was best to adapt and went to work for the Department of Work and Pensions, again, emphasizing her strong work ethic. To this day, despite finding it difficult to hold scissors Anita still continues with her passion for creating clothes, "I still try to make my own clothes as often as possible, all be it there is a lot of swearing involved", explains Anita with a wry smile.
After years of wearing uncomfortable, unsuitable splints which caused blisters Anita came across an advert in the CMT magazine which advertised SAFO (Silicone Ankle Foot Orthosis) manufactured by Dorset Orthopaedic. The SAFO is a revolutionary product that works by supporting the front of the leg down to the top of the foot, helping to lift the foot during walking. Anita fought to have the SAFO for two tiring years and when she finally was able to receive them, she said, "If anyone asks me about my SAFO, I tell them they are the Rolls Royce of Splints. It makes such a difference to my life. It's the safety for me and being less at risk of falling. I've never had any problems with them".
Anita was fitted by Matthew at the Ringwood clinic she continued to explain, "Everyone at Dorset are just so friendly, as soon as you walk in, the Reception team all know me by name. My biggest worry is there being too many people and getting knocked over, however at Dorset it's not too over crowded. When I go in I feel like a human rather than part of the cattle", said Anita. As well as this Anita is very grateful to Rebecca Lui, her neurologist at the Royal Free who has always been very supportive.
Anita's most difficult challenge she has overcome has been footwear she explained, "I couldn't wear the same shoes as anyone else. I tried having shoes made personally for me, which didn't work. It's so difficult to find support from the shoe and flexible soles. Bad shoes result in no stability." Overcoming barriers, Anita has found ways to adapt and with her SAFO and can now lead a normal life.
After many years of battling with her disability, her unwavering work ethic and desire to achieve her goals has given her lots of things to be proud of. This includes learning to drive. "My car is essentially my legs and gives me so much independence, also being positive is fundamental and nothing has stopped me from doing what I want to do", explains Anita. "However, I do know my limitations. Adapting my mind and not letting things depress me is important and certainly not easy at time you have to learn to let things go that you can't do anymore. I try not to dwell on it, I might miss certain things but if you focus on that then you can't move forward", continues Anita. I am very independent and try to do things on my own, without asking other people but there is no shame with asking for help if you do need it!"
Currently, Anita is retired and rebuilding her house to make it more suitable for her needs as well as having a passion for Gardening. Always on the move she explains, "When the builders come into my house they say that I am always busy, I never have nothing to do."
If I could give any advice to anyone in a similar position to me", says Anita, "I think it's a positive mental attitude that is the most important, you need to try focus on what you can do. If there are things you can't do you need to let it go in order to move forward. Positive mental attitude is the best thing which can help people, although be it not always easy at all."